Week of: 7/4/16 – 7/10/16
Nintendo Spot is basically the major Nintendo news that blasts onto the internet and such, be it leaks or actual news, you'll hear it from me. I, Sol, will be tackling it as soon as I can, so come here each day to see what has come out into the open!
Monday, July 4th
Splatoon To Still Go Strong!
It was sad news to hear that the Splatfests in Splatoon were ending. However, despite the celebrations coming to a stop, Nintendo has stated that Splatoon's "general online experience and service will continue," to Kotaku. There isn't much to really worry about unless you are upset about the end to Splatfests.
---
And Thus Concludes Nationals
For America, the Pokémon National Championships for TCG and the video games are over. Some of the champions include "Chase L." for the Masters class of the video games, "Carson S." for the Senior class of the video games, and "Enzo R." for the Juniors class of the video games. The World Championships are taking place in San Francisco this year from August 19th to August 21st.
---
Fire and Ice
Sonic Boom: Fire & Ice on the 3DS is looking to be an interesting title as, from what I've seen in this video posted by GameXplain, the game seems to be very much like a standard Sonic platformer with a gimmick of having a aura of fire or ice as the name suggests. In fact, the beginning has a quick but objectively cleanly-animated opening! How do you feel about this title? The game is set to launch on September 27th.
---
Tuesday, July 5th
Monster Hunter meets Wind Waker?!
In a surprising turn of events, a free costume for the Monster Hunter Generations creature named the Palico that is themed off of Link from The Legend of Zelda: The Wind Waker will be available to download on the 15th of July. If you are a fan of both series, I'm sure you are a bit amused by this. I mean, Toon Link does look cute in a way doing all these action attacks with little whiskers on, I guess.
---
Best of the Wild
The title with all the hype in the world in its best, The Legend of Zelda: Breath of the Wild, has won several awards for the Game Critic Awards on E3 2016. Perhaps the award with the highest honor is the "Best of Show," outclassing other massive titles like the new God of War. It also won "Best Console Game" and "Best Action/Adventure Game." Perhaps, however, you may disagree with one of the awards it won. Which would you have put in its place… it at all?
---
GO! GO! GO!
Alright trainers, have you been waiting for a chance to play Pokémon GO? Well, the time has come! Niantic, the Pokémon Company, and Nintendo appear to be rolling it out on iOS and Android devices as you read this if it's not yet available to you right now. If you are looking to get the game, check to see if it is already in your region.
---
Wednesday, July 6th
Apocalypse Now
It has been just announced that Shin Megami Tensei IV: Apocalypse will indeed be coming soon to North America. In fact, this RPG, which involves Gods, demons, and a post-apocalytic Tokyo, will be available September 20th. While for a more "mature" audience, there's constant good word about this series all along the internet. You won't really have to wait past summer to play it, too!
---
Another Touch of Rumors…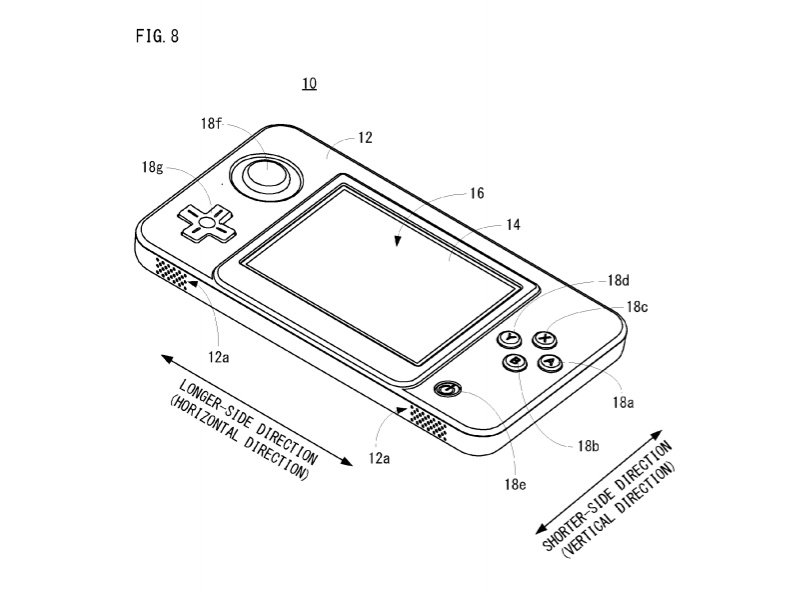 To the left is a patent filed by Nintendo recently. This depicts a single-screen device with touch screen play. It also has a vibration system to give a "higher sense of immersion" to the user. Similar patents have been found in the past, further adding fuel to the fires of rumors on the NX. Supposedly, it will involve some sort of handheld device… possibly looking like what we see to the left. However, rumors are rumors. Never trust them! The NX, whatever it truly will be, will be announced soon, obviously. Whatever we will see doesn't have to look anything like what we see here. Only time, really, will tell.
---
A New amiibo Hunt to Come!
A second set for the Monster Hunter amiibo series has been unveiled. Famitsu just showed off these three new figures for Monster Hunter Stories, actually! From left to right, we see: Qurupeco and Dan-senpai, Barioth (nicknamed Hyouga) and Ayulia, Rathian and Cheval. Yes, they all are mounted on some neat looking creatures. Like the original trio announced, they will unlock special Otomons if they are scanned in Monster Hunter Stories. Each of these cost 1800 yen and release December 8th in Japan.
---
Thursday, July 7th
Who's That Pokémon?!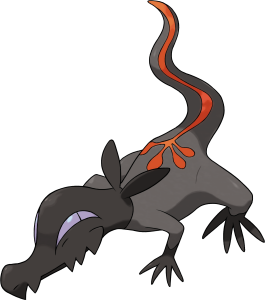 Just what might that be, you may ask yourself? Why, this is a brand new Pokémon that you may find within the Alola region in Pokémon Sun and Moon. This Fire/Poison type is named Salandit. It's quite the interesting guy, too. Salandit emits toxic gas, together with flames, from the base of its tail. This poisonous gas has a sweet smell, and anyone who unknowingly breathes it in will become dizzy. Salandit is not a very powerful Pokémon, but its cunning nature allows it to battle fiercely by throwing its opponents off balance. Salandit females not only release toxic gases, they can also emit pheromones that attract males of all species, including Pokémon and humans. Inhaling these pheromones may cause opponents to be controlled by Salandit's will. It comes with a new ability named Corrosive that allows Salandit and other Pokémon with this ability to inflict the "poisoned" or "badly poisoned" status to Steel and Poison type Pokémon (who would normally be unable to be inflicted with that status condition.) Isn't it neat?
---
Color Splash Will Make You Cry…!
Perhaps the skeptics' biggest critique for Paper Mario: Splash is that we've seen nothing really of a "story" from all we've seen. However, producer Risa Tabata mentioned within a Eurogamer interview that Huey will be the only partner for Mario but will have a close relationship with him. She also mentions that the game team tried to keep in mind the past, involved stories in Paper Mario titles. In fact, by the time you finish the story, she says, "you'll probably cry." The question is, will the story actually be as good as they describe? Or will it fall flat?
---
Chef Kirby Comes to Town
Details are scarce, but there is a freshly-announced Kirby cafe coming to Japan next month. However, it should be known that it will only be open for a limited time. Japan usually goes all out for something like this. I say this because there isn't any actual pictures of the interior nor food items for the cafe. Don't worry; if you are further interested into this, there is a Twitter account for it.
---
Friday, July 8th
When The Hunt Turns Up Something Unexpected
Right, so some nineteen-year-old girl found a dead body while hunting for some Pokémon on Pokémon GO. Yes! The girl, Shayla Wiggins, was looking for some Pokémon in Riverton, Wyoming. That's when the story gets interesting by her retelling of the experience. "I was trying to get a Pokemon from a natural water resource. I was walking towards the bridge along the shore when I saw something in the water. I had to take a second look and I realized it was a body. It was pretty shocking and I didn't really know what to do at first. But I called 911 right away and they came really quickly. I was pretty scared and cried for a while." I don't know if she found some Pokemon there or not, but I'm glad she called 911!
---
Pikmin 4 Still In Development… Mostly!
Pikmin 4 is the game that we know exists but haven't heard anything about it asides from that. However, Shigeru Miyamoto (the main man behind the project) explained to GameRant that while Pikmin 4 is still being worked on, it isn't the biggest priority. "Yes, you are right, and we're working on [Pikmin 4]. So, you know, when we're in development we have to create a list of priorities and it has been hard to kind of fit that into that list, but we're hopefully starting to see that on the list now," he said. With games like Breath of the Wild and the NX system being heavily focused on, it is totally understandable to hear this. Pikmin 3 was well-renowned for being an overall excellent game; I'm more than eager to see what its successor will bring to the table.
---
Keeping it 100
Nintendo has tweeted out a milestone for their amiibo. With the release of Callie and Marie amiibo today (and the alternate-colored Inkling amiibo), there are now 100 different amiibo! It's been nearly two years since the release of these little figurines. Which is your favorite?
---
Saturday, July 9th
Hoo… Ha!
35 years of Donkey Kong? Apparently so! Nintendo has said that today, the giant ape we've known and loved for some time has celebrated his 35th anniversary. You know, it feels strange to say its been that long since Donkey Kong has been around…
---
Pokémon Leaks Possibly Out?
Now, these are HEAVY leaks on Pokémon Sun and Moon and certainly have no actual proof. However, they do look quite believable and the picture that accompanies these leaks has been taken off of Google search results (mostly.) If you want to see what came out, click here.
---
A Damaged Project
Unseen64 is a web series on cancelled game projects that have come and gone throughout the years; usually, the videos are quite interesting. However, a new addition to the ongoing series released this afternoon and could not have been passed up to show you all. This one is one the cancelled sequel to a game called Cel Damage. To best describe it, imagine a bunch of made up cartoon characters battling it out and racing in cars with one of the nicest art styles of the earlier 00's. I love that game! I, however, didn't even hear of its failed sequel until now, which was meant to come on the Gamecube as well as a few other systems, so I'm sure you all haven't either. You certainly should watch this video, then!.
---
Sunday, July 10th
Did You Know: Mario Kart

The latest episode of Did You Know Gaming released and is all about something I certainly love: Mario Kart! This video has a fact on nearly every game in the series and most of them were facts I'd never heard of. There's a lot crammed into this feature. Take a look!
---
GOing Forward
Pokémon GO has been out in most western regions for some time. However, the massive success of the game is certainly something to talk about. Actually, Pokémon GO getting the same amount of the daily active users that Twitter receives! Niantic has begun to start discussing what to do with Pokémon GO in the future. Some of the plans include more functions with the Gyms and PokéStops as well as creating a global leadership board for users of the mobile app. They also seem to want to allow the game to be available on more systems as time progresses. Niantic also mentioned that Pokémon GO is only in its most basic form, currently, so there will be a lot more in stores for this app. That's a lot for the future, right?
---
2016: 4/12 | 4/18 | 4/25 | 5/2 | 5/9 | 5/16 | 5/23 | 5/30 | 6/6 | 6/13 (E3) | 6/20 | 6/27 | 7/4
http://www.bizimmersin.com/