Week of: 6/20/16 – 6/26/16
Nintendo Spot is basically the major Nintendo news that blasts onto the internet and such, be it leaks or actual news, you'll hear it from me. I, Sol, will be tackling it as soon as I can, so come here each day to see what has come out into the open!
---
Sunday, June 26th
I'm a little late to the part, but I certainly won't go over this new video out! One of my favorite game series on the internet, Pop Fiction, got the axe when GameTrailers did. The show featured cracking some of gaming's greatest mysteries to find if they were true or not. Now, as GameTrailer's successor, Easy Allies, arrises, so does a successor to Pop Fiction. This new web show is called Game Sleuth and is more or less the same formula of cracking game mysteries and such. On their first episode, the mystery on whether or not you can beat the running man in The Legend of Zelda: Ocarina of Time is studied and tested. If you'd like to see if you can or not, you should watch it!
---
The Japanese Pokémon show Pokénchi will have a feature on Pokémon Sun and Moon the day after the next bit of expected news for the latest Pokémon titles, July 2nd, and will likely just display the aforementioned news to the Japanese public. However, there is a chance we could get some new footage or even something completely different than the news coming the day before. Details on new Pokémon were teased… but what we will actually get is unknown.
---
The results are in! Team Night Owl has bested Team Early Bird in this past Splatfest. They managed to grab a clean victory with 377 points opposed to Team Early Bird's 323. Yes, I accept defeat; I already expected the Night Owls to grab the gold. You should see the dialogue between the Squid Sisters, though, its very funny! Side note, have you all realized that we are approaching the one-year anniversary of Splatfests! The first one, Dogs versus Cats, started July 4th here in the United States. How time has flown by!
---
Saturday, June 25th

You can click this image for a larger view of it, or you may go to the source of it to further analyze the situation. The situation being that following this "Brexit" ordeal, Nintendo's stocks have lowered tremendously (nearly 8%). This involves a lot of issues involving the stock market, too, but for now, the important part is that Nintendo's investments are depleting. As time continues, we just have to see what happens to Nintendo's stocks, won't we?
---
So, there apparently is some more Pokémon GO beta footage leaked; this time, it is in English! Like last time, watch it quickly as there is no telling when it will be pulled from the internet. This is one is rather important, as it shows a gym battle! Also, in regards to the beta testing, as Pokémon GO is coming some time in July, the testing for the game will be ending June 30th for the United States just in case you were wondering. There isn't too long of a wait for this game, though!
---
I like to stay away from rumors in general as they often are taken fallaciously and are simply not so much "news," but I think this is a proper case for an exception. Apparently, fan games based off Nintendo IP's have been taken down, but this video seems to point as someone not associated with Nintendo as the culprit and just posing as Nintendo to take said games down. This is an issue! A big one! Copyright claims have already been a problem for the community and now we have a poser pulling down fan games? I believe this is going to be a rough case to tackle, too. Somehow, I'm sure this will be resolved.
---
Friday, June 24th
Hey friends, let us start off by quickly mentioning some news for Pokémon Sun and Moon. It appears that, for Japan at the very least, some news for the game will hit the internet on July 1st at 9AM EDT and 6AM PDT. What Pokémon will be coming out from the woodwork? Or will it be something completely different? Time will tell!
---
Also, Mario and Sonic at the Rio 2016 Olympic Games has released today. Yes, it is another addition to the classic Olympic series with new challenges to take on. This game features 14 events and 3 Duel events as well as a heated Tournament mode. There is also a local multiplayer mode called "Heroes Showdown" where the events are randomized and so are the teams, with a bit of a twist. Basically, one player will get ten randomized characters from Mario's side and the other get ten randomized characters from Sonic's side. Anyways, if you want the game, it is $59.99 on the Wii U and $39.99 on the 3DS.
---
We're always talking about what games we want to make next. We thought you might have a preference too!
Tell us herehttps://t.co/DmEUeJB5VS

— Yacht Club Games (@YachtClubGames) June 24, 2016
Yacht Club Games, the developers behind Shovel Knight, have created a poll for the community to vote in that will give them suggestions as to what project they may work on next. The choices vary from a Shovel Knight 2 to a Metroid-like game to even a Shovel Knight Kart racer! It's not too long a poll and I'm sure you'd like to have your voice heard by the people who created the excellent indie platformer but a few years ago, no? It wouldn't hurt!
---
Thursday, June 23rd
The latest Hyrule Warriors Legends DLC pack is out next week in Japan and its theme is Link's Awakening. Marin, a character Zelda fans haven't seen in quite some time, hails from Link's Awakening and she utilizes bells and creates shockwaves with them in battle. Her special attack incorporates the Wind Fish, another character from Link's Awakening. Equally important, I'd say, is the fact that Linkle has a new weapon to tote; they are simply called "Boots." To me, they look like riding boots. Also, this DLC pack comes with a lot of extra goodies such as new costumes and a new Adventure map. The video above has a collection of artwork for this new DLC.
---
Wahaha! The art for the second wave of Super Mario amiibo is here. Yes, we've gotten the full look of what Daisy, Wario, Waluigi, and more will look like in box. If you'd like to see the full gallery, please go here! Comment what you think about them over there, too, while you are at it!
---
Lastly, I mentioned earlier that Sonic the Hedgehog's 25th anniversary has been celebrated for a lot of this year considering the blue blur is actually 25 years old, now. Anyways, Sega and Sonic Team posted a little compilation of what Sonic looked like through the ages. It's nothing major, maybe, but as a person who likes to have their history well-known, I'd suggest you watch it in full to see the complete transformation to how Sonic looks today. You'd learn a thing or two, wouldn't you?
---
Wednesday, June 22nd
Shovel Knight, one of the more popular Indie games that has come out as of late, has its second of three new campaign modes announced. The first, Plague of Shadows, had the player take control of Plague Knight. This one, which has yet to be named, will have the player control the ghastly Specter Knight. He has a special "Dash Slash" that can be used repeatedly on foes in air. There's a demonstration of this below! Also, something else you should take note of, Specter Knight can actually walk on walls. All of this is lining up for a campaign with a lot of mobility, huh? Yacht Club Games, the developer for Shovel Knight, has also announced that the third campaign, designated to King Knight, is also under development as well as the other modes being Battle Mode and Body Swap. Click here for more details!
---
Sonic Team has officially confirmed that another Sonic title is in the works. Just in time for 25th anniversary, too! This is actually from an interview the Sonic Team had originally with Famitsu. "We at Sonic Team – are developing a completely new game, as well as developing a full movie, actively done by Sony Pictures, and animation on Sonic Boom. We are also ready to improve sponsor ties. The most important thing is not the fact the series survived for 25 years, but how many games was developed. Our goal – add something new and overcome any potential hardships," said head of Sonic Team, Takashi Iizuka. What do you think is up their sleeve?
---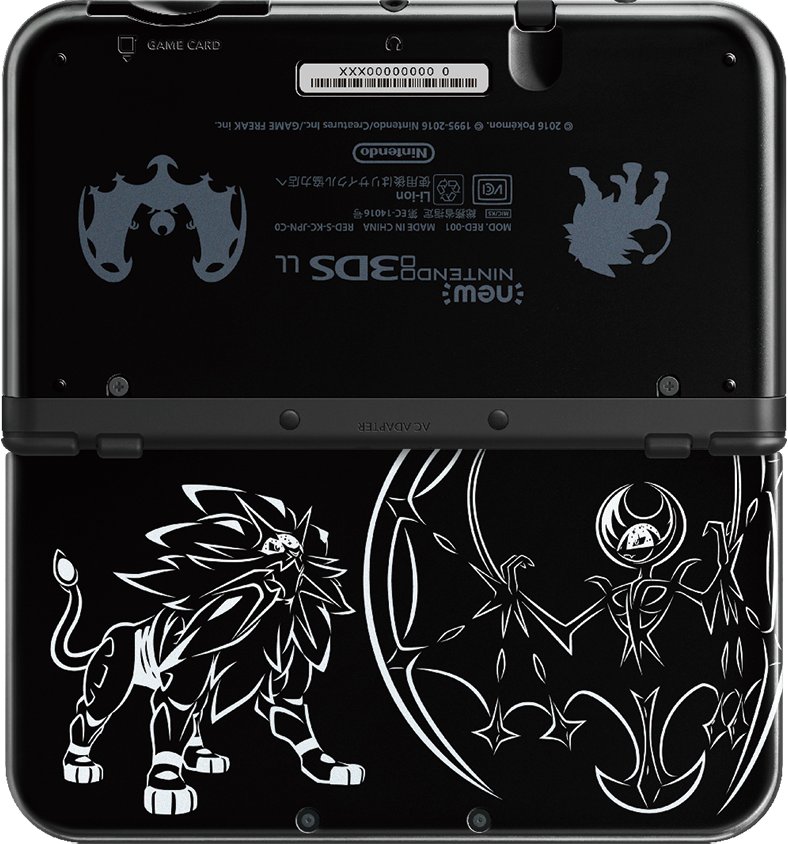 This stylish New Nintendo 3DS XL system got announced to be arriving in Japan for Pokémon Sun and Moon's release and now, Europe and Australia will also be getting it around the same time in November. However, there's a bit more. Europe will also be having special editions of Pokémon Sun and Pokémon Moon, separately. Either edition will be launching November 23rd and will include a special steel book, but other details on this are scarce.
---
Tuesday, June 21st
Add some bling to your Blast Ball matches in #FederationForce by scanning #amiibo to add a paint job to your Mech. pic.twitter.com/3ay1Pb1q46

— Nintendo of America (@NintendoAmerica) June 21, 2016
Metroid Prime Federation Force has been announced to have amiibo functionality. More specifically, within the Blast Ball, certain amiibo will allow you deck out your Mechs. So far, I've seen Zero Suit Samus, Samus, Bowser, and Mario functional with this. I wouldn't think it silly to expect some more! Remember, the game comes August 19th in North America and September 2nd in Europe.
---
Mighty No. 9 is out and as happy as the community may be for this release, it is very obvious that there are a lot of issues in terms of how smoothly the game runs. Thankfully, Deep Silver, the company behind much of the game, will be releasing a patch to fix the game. So, hopefully, the game will be up to par to how it SHOULD be running! Now, have you guys played this game yet? Is it worth the purchase?
---
For the conclusion of today is GameXplain's first major E3 Analysis. The topic is Pokémon Sun and Moon! It's a shorter analysis as the demonstration we got during E3 pointed out a lot of changes such as the changes to the battle screens and similar things to note. The majority of this video focuses on the mysterious Pokémon Magearna and how it possibly involves itself with GameXplain's theory video from a while ago and even stranger, how it may involve the character Lillie. Watch the video above to get the full details!
---
Monday, June 20th
Three @Pokemon Mystery Dungeon titles are coming to #WiiU Virtual Console on 6/23! https://t.co/sMuwgaKY9M pic.twitter.com/5mBwciFNQT

— Nintendo of America (@NintendoAmerica) June 20, 2016
Our first morsel of news relates to the Wii U Virtual Console. I'm happy to say that three Pokémon Mystery Dungeon titles are heading to the eShop very soon. In fact, this Thursday, all three of those titles will be available for pickup. Pokémon Mystery Dungeon Red Rescue Team and Blue Rescue Team are two of the three; these games were the original titles for the Mystery Dungeon Series, so why not start with those? However, if you want to get a little more modern Pokémon Mystery Dungeon: Explorers of the Sky won't let you down. Let me just tell you, Explorers of the Sky is the paragon Mystery Dungeon title. You must play it! With three games coming, which one will you choose?
---
Mighty No. 9 will be releasing tomorrow! Wow, it has been quite some time since the game was first announced. It's a warm feeling to have it finally come out, right? Well, to hold you over for just a little bit longer, there is a release trailer out now. Mighty No. 9 is basically Mega Man in a new direction and because of this, I'm extremely excited to have it finally available to the world! What's stopping you from getting it? Go on! Check it out!
---
So, the E3 trailers from Nintendo have broken some records for Nintendo's YouTube channel. In fact, The Legend of Zelda: Breath of the Wild's trailer is the most viewed YouTube video on their channel to date! SuperZambezi has a full article on how Nintendo's other top videos fared against it here, and there are some interesting numbers in there. I did not expect a few of the videos on there to get so many views!
---
Nintendo Spot Archives
2016: 4/12 | 4/18 | 4/25 | 5/2 | 5/9 | 5/16 | 5/23 | 5/30 | 6/6 | 6/13 (E3) | 6/20


escort mersin