Week of: 6/6/16 – 6/12/16
Nintendo Spot is basically the major Nintendo news that blasts onto the internet and such, be it leaks or actual news, you'll hear it from me. I, Sol, will be tackling it as soon as I can, so come here each day to see what has come out into the open!
---
Sunday, June 12th
Oddly enough, despite the update for Splatoon, there will be maintenance for the servers tomorrow from 3PM to 7PM Pacific Time. So, if you plan on playing Splatoon tomorrow, keep in mind that Splatoon servers will be down during those times. Which is unfortunate, because everyone loves Splatoon!
---
So, the big news for today was that Amazon accidentally leaked this picture that is part of Zelda Next-Gen in some way. We can see Link rock climbing in front of a gorgeous overworld. Look at all the details! In fact… details? Well, GameXplain has already gotten ahold of these details and have uploaded short analysis of this picture. They found many pieces of information that we are bound to have formally introduced during E3. You can find their video here. Funny thing, shortly after it leaked, Nintendo released of the FULL image of this artwork, which you can see above.
---
Saturday, June 11th
Today is a Pokémon news day, actually! The first comes from the Pokémon Taiwan National Championships and the footage shown is actually above. Look! It is the first in-game footage of Zygarde 10% and Zygarde Complete. It seems that when Zygarde 10% is at very low HP, it will transform into Zygarde Complete. However, "Zygarde Complete" will use a signature move called "Core Enforcer" here in the states. I bet you the Focus Sash will be perfect for it, then. Also, viewers with keen eyes may notice that this will only be in Pokémon Sun and Moon. Does Zygarde have something to do with Generation 7?
---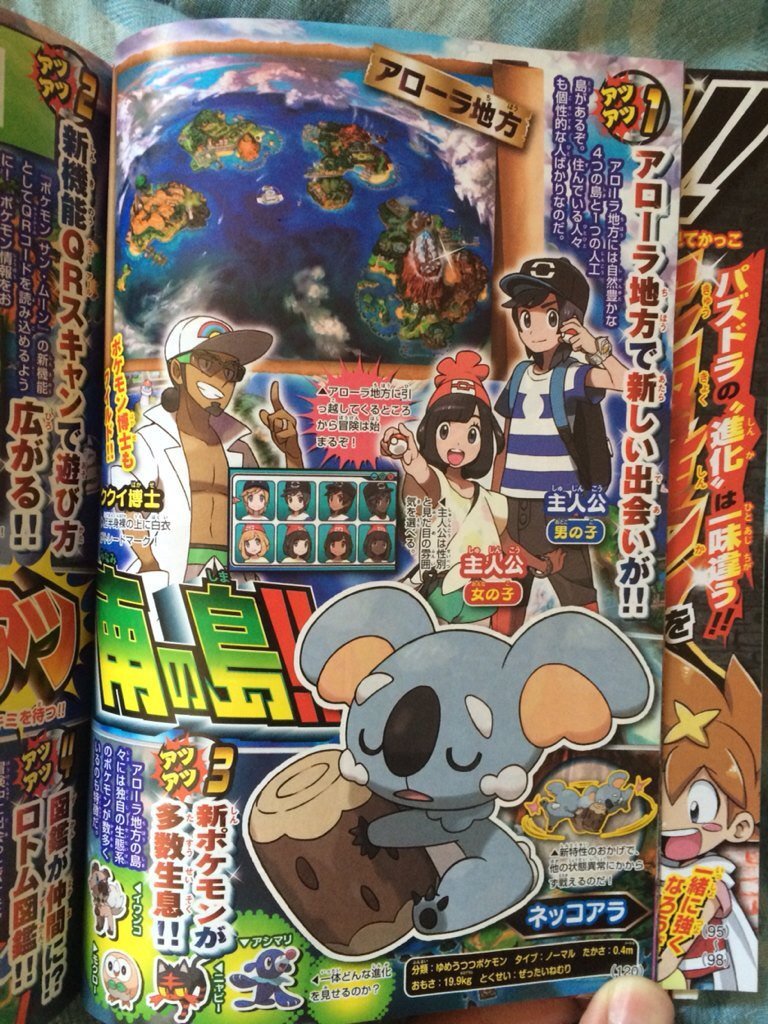 Yes, you are not mistaken! Two new Pokémon have been revealed in this month's CoroCoro. Keep in mind that this is all in Japanese. The first, the little guy above this, is Nekkoala, the Half-Awake Pokémon. He's a Normal-type and has the new ability Definite Sleep which prevents him from being inflicted with any status condition besides sleep. What a cool ability!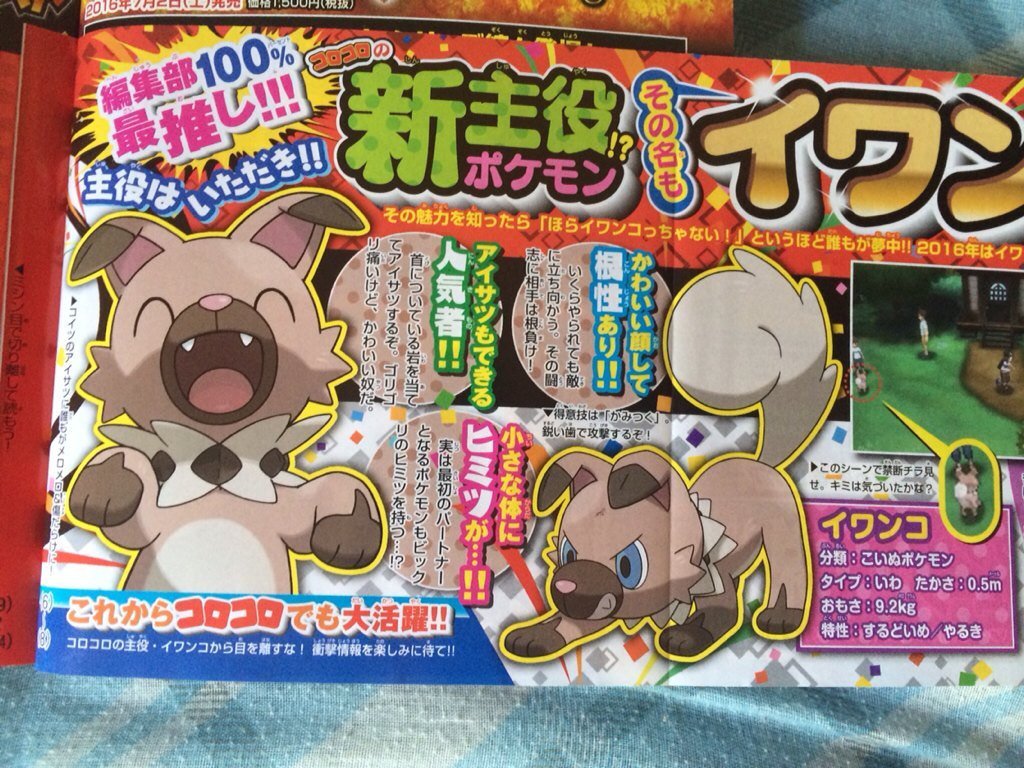 The second one is Iwanko, a puppy! Iwanko is the Puppy Pokémon, actually. It will either be found with the ability Keen Eye or Vital Spirit and is, oddly enough, a Rock-type. According to the magazine, Iwanko and the three starter Pokémon of Alola hold a secret. I believe that the four's final evolutions will Mega Evolve or perhaps their lines will be incorporated into whatever the bracelets the Trainers wear this time around will do. Personally, I'd say these Pokémon are both pretty cool. Nekkoala has a great ability and Iwanko is… well, a dog! Dogs are perfection, sorry Litten lovers.
---
Friday, June 10th
A recently-made friend of mine showed me this cool app from the community dealing with Pokémon GO. Basically, it serves as a chat for people around specific locations that interact with Pokémon GO but only if you are close to said locations. It seems pretty simple and if you would like to see it, click here. Obviously, the actual game is not out yet, so naturally, this is not necessarily working just yet. However, I am curious to see just how in-depth this app may go. Do you think it will only allow posts visible to members of the same team?
---
We're heading to #E3, and Reggie is visiting your #3DS. It must be National StreetPass Week! https://t.co/qS1NX1exAo pic.twitter.com/yj7PRhwy3r

— Nintendo of America (@NintendoAmerica) June 10, 2016
According to Nintendo, it is National Streetpass Week! This little event lasts from today to the 19th. Also, as E3 comes around, it appears that Reggie Fils-Aime will be coming over to your 3DS. I bet you he'll remind to check out all the Zelda Next-Gen news we're bound to receive. Hey, we'll probably get a name for that game, too, so Zelda Next-Gen probably won't be said for much longer!
---
Thursday, June 9th
A short update to begin today's news, alright? The Miiverse community for E3 is up and if it's anything like last year's, we'll get a lot of little details on what E3 shows off within it. If you'd like to check it out, here's the post to introduce the community.
---
For E3, a bunch of information on LEGO Dimensions has come up. For instance, 16 LEGO Dimensions packs will release September 30th. I saw that Sonic the Hedgehog, even, is coming to the game! Others include Adventure Time and Beetlejuice, oddly enough. These LEGO Dimensions packs will be coming in at least till next summer, so expect a lot of these. Admittedly, I mostly interested in seeing Sonic The Hedgehog mixed into LEGO games. That is not something I would expect to happen, like… ever!
---
Two videos in a row? How unlike me! This next one is completely off-focus from LEGO Dimensions as this one is on Pokémon Sun and Moon. GameXplain has cooked up a theory that may seem convoluted but is also a bit awesome! It incorporates Pokémon X, Y, Omega Ruby, and Alpha Sapphire as well as alchemy and harmonic convergence among many other things. I think that they obviously have some credit to alchemy being involved with these games, but their whole theory certainly is a lot to take in. What do you think? Do you agree or is there something else at play here?
---
Wednesday, June 8th
Hey, all! The Splatoon update with all the special new weapons and such is out now! Yes, the latest version of the inktacular game is up now, so I would start updating it now. I believe a Splatfest is just around the corner, so you best do it now. If you want some more details on the update.
---
A CPSIA labeled "Coming Soon" has just appeared. No item number. Time to speculate! https://t.co/qRunjghki9 pic.twitter.com/0OjXoydJLY

— Amiibo News (@AmiiboNews) June 8, 2016
So, this strange CPSIA from Nintendo came out called "Coming Soon," but came with no number. What is it? Do you think it is new amiibo? Or what if its something so off-the-wall?
---
So a poll was put up in Japan that had people rate all 720 Pokémon, now. The upset was that Pikachu did not place first. The top five, going from bottom's up, are Sylveon, Pikachu, Mew, Arceus… and Greninja! The winning Pokémon will be given away for a special event over there, so perhaps that's why Greninja and Arceus placed so high. If you want to check out the source material, click here.
---
Tuesday, June 7th
I think this is a bit interesting. YouTube has released specific statistics for the top 10 view counts for the game trailers released within 2016 thus far in light of E3 coming up just around the corner. You'll be excited to see Pokémon Sun and Moon's first trailer placed number five. Check the full one out here.
Battlefield 1 Official Reveal Trailer, 34.6 million views

Official Call of Duty: Infinite Warfare Reveal Trailer,  25.1 million views

Gears of War 4 – Tomorrow, 16 million views

DOOM – Fight Like Hell Cinematic Trailer, 8.5 million views

Starter Pokémon for Pokémon Sun and Pokémon Moon Revealed!, 8.4 million views

Overwatch Animated Short | "Dragons", 5.2 million views

MLB The Show 16 – Get Famous (TV Commercial) | PS4, PS3, 4.7 million views

Fallout 4 – Far Harbor Official Trailer, 4.3 million views

Fallout 4 – Automatron Official Trailer, 2.9 Million

Official Call of Duty: Black Ops III – Awakening Trailer: The Replacer Returns, 2.8 million views
---
From the community comes this short animation themed after Metroid and depicts Samus on a short little mission. Since, again, this is SHORT so I won't really discuss it in detail. However, it is very well done, so take a look at it. I love animation of all sorts, especially Nintendo ones coming from the fans.
---
Monday, June 6th
So, Yooka-Laylee has a trailer out now! The game looks so good. Watching the video, I can tell you that I think it looks like a Banjo-Kazooie game (as it should; that's what Yooka-Laylee is based off of) with a bit more platforming. One thing I can certainly say is that the game looks phenomenal in regards to graphics. However, with this trailer, its been announced that the game has been delayed to early 2017. That's still not a long wait! It will be released on all major consoles, too, which includes Nintendo Wii U.
---
Well, would you look at that! Shantae: Half-Genie Hero also got a release date. If you aren't familiar with the Shantae games, think of them as very involved platformers. Anyways, this game, developed by WayForward, will be released on September 27, 2016. You should check it out here for more information, of course.
---
Nintendo Spot Archives
2016: 4/12 | 4/18 | 4/25 | 5/2 | 5/9 | 5/16 | 5/23 | 5/30 | 6/6