Week of: 4/25/16 – 5/1/16
Nintendo Spot is basically the major Nintendo news that blasts onto the internet and such, be it leaks or actual news, you'll hear it from me. I, Sol, will be tackling it as soon as I can, so come here each day to see what has come out into the open!
---
Sunday, May 1st
My Nintendo has some new rewards up for the West, so if you've been saving up, perhaps you want to put your points to one of these bargains! The list is just down here, okay?
North America:
15% off Luigi's Mansion: Dark Moon (600 Platinum)
15% off Super Mario Galaxy 2 (300 Platinum)
15% off Pikmin 3 (300 Platinum)
15% off Dr. Luigi (230 Platinum)
15% off Mini Mario: Minis on the Move (150 Platinum)
30% off The Legend of Zelda: Triforce Heroes (100 Gold)
30% off Tomodachi Life (80 Gold)
30% off The Wonderful 101 (70 Gold)
30% off Donkey Kong Country: Tropical Freeze (50 Gold)
30% off Metroid Prime Trilogy (50 Gold)
Europe:
10% off Fire Emblem: Fates (20 Gold)
20% off Captain Toad: Treasure Tracker (600 Platinum)
40% off Captain Toad: Treasure Tracker (100 Gold)
20% off Animal Crossing: New Leaf (600 Platinum)
---
The introduction to Super Smash Bros. Melee might be one of the most iconic video game introductions ever. Period! Well, a YouTube video surfaced this morning that apparently over 30 animators worked on: a reanimation of the original intro to the fighting-game-classic. The video certainly does justice to the classic characters of Nintendo and is a top-notch tribute, to say the least. This channel also has done a reanimation of the Pokémon intro, as well, so check it out here! Let me know what you think of these cool-looking videos!
---
Saturday, April 30th
Hey amiibo fans such as myself, have you heard the news? Callie and Marie from Splatoon are getting special amiibo. These two are sparkly, savory, and yes, they STAYYY FRESH! I am so excited, since as Splatoon released their first series of amiibo, I've wanted a Callie and Marie amiibo in my collection. Also, speaking of the original Splatoon amiibo, some recolors of them are coming with these Callie and Marie amiibo. You'll see them coming July 7th and if you want to take a look at them, check here!
---
Other than that, I think it is worth mentioning that the Zygarde event from yesterday is also coming in North America. For all of you with Pokémon Omega Ruby and Alpha Sapphire, I would get it up and plan to receive a brand-spanking-new Zygarde!
---
Friday, April 29th
Serebii Update: Zygarde 50% Forme is now available in Europe over the Nintendo Network https://t.co/oV6DIIA7Ub pic.twitter.com/23OILJ1Rpd

— Serebii.net (@SerebiiNet) April 29, 2016
How cool, for those of you in Europe, a nice Zygarde distribution event has gone live for Pokémon Omega Ruby and Alpha Sapphire. Not much to say except awesome! This Zygarde is Level 100 and has the moves Land's Warth, Extremespeed, Glare, and Outrage. What are you waiting for? Go get it!
---
One of the neatest things that Kirby Planet Robobot offers for amiibo collectors such as myself was that connecting one to your system would give you a Copy Ability. GameXplain has compiled a whole collection of specific drops that specific amiibo give in the game through a short video. If you want to keep track of just how exactly these drops work, just give this video a watch!
---
Yeah Mother 3 is still coming. Even @nron10 recently told me he heard it was still coming. Probably E3. https://t.co/sejSVNjj6E

— Emily Rogers (@ArcadeGirl64) April 29, 2016
So, Mother 3 is a well-known game to those in America as a game that we supposedly will never get. It is the notoriously final game to the Earthbound games released only in Japan onto Gameboy Advanced systems. However, rumors have been swirling around the internet as of late that say that Mother 3 is being localized for America–officially. Emily Rogers, well-known within Nintendo news and rumors, has reconfirmed that Mother 3 with be localized for the West. Is this true? She guesses it may be announced at E3… that would be awesome. Could you all imagine the fan freakout? It would be legendary!
---
Thursday, April 28th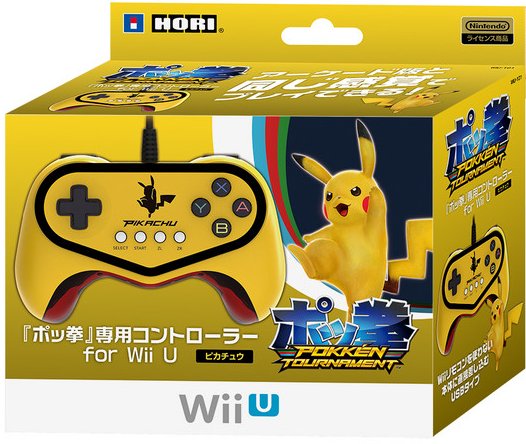 A neat new controller specially made for Pokkén Tournament is coming to Japan this June. Unfortunately, no details have been released with this news except for the fact that its coming in June (as I said prior) and it will be 3758¥. I'm sure PlayAsia will have it for all of us in the West!
---
New DLC Packs for Fire Emblem: Fates are arriving May 2nd. This second Map Pack will have its special missions released from May to June, but you can basically prepay for all of them together for a much cheaper price them buying them altogether individually. These maps tell an ongoing story about alternate versions of the children found in either version of Fire Emblem: Fates which involve a new danger threatening both themselves and their parents! The full list with their specific release dates are below.
May 5-June 9 – Map Pack 2 ($7.99)
May 5 – I: In Endless Dreams (49 cents)
May 12 – II: Realms Collide ($1.99)
May 19 – III: The Changing Tide ($1.99)
May 26 – IV: Light's Sacrifice ($1.99)
June 2 – V: Endless Dawn ($1.99)
June 9 – End: Lost in the Waves ($1.99)
---
Lastly, late president of Nintendo Hiroshi Yamauchi has been inducted into the 2016 Consumer Technology Hall of Fame. What an achievement! Here is the full list of other inductees that achieved this status with him:
Visionary Retailer: Sidney Cooper – Silo
Father of Bluetooth: Dr. Jaap Haartsen – Ericsson
Prominent Distribution Pioneer: David B. Lorsch – DBL Distributing
Transformational Technologist: Chuck Pagano – ESPN
Legendary Journalist: Steve Smith – TWICE Magazine
Home Automation Developer: Joel Spira – Lutron
Pioneering Accessories Executive: Nat Tiffen – The Tiffen Company
Video Game Futurist: Hiroshi Yamauchi – Nintendo
---
Wednesday, April 27th
And with a drought of news, we finally have reached some juicy parts! The Nintendo NX has been revealed to be releasing March 2017, so in nearly a year we will be seeing this game system in our own hands! However, we will not be seeing it at E3 this year (which is even stranger considering the next story), but the NX will be officially shown off before the end of the year. Unfortunately, that's all the news we actually got for NX that is truly pressing…
---
More information on Zelda Wii U has come out of the woodwork. Or, rather, Zelda Wii U and NX. The mysterious title both got this new beautiful piece of artwork of Link (shown above) as well as the revelation that the latest Zelda title will be released on the upcoming NX system and Wii U console simultaneously. So, we won't be playing Zelda Next-Gen (as I will call it) until March, at least. However, on the topic of E3, Zelda Next-Gen will be playable on the show floor there. Actually, it will be the only game playable there… strange. What do you guys think about all these strange decisions Nintendo is making in regards to the Zelda game and the NX? Also, what do you think about this artwork, because I am in LOVE with it if this is the art-style they are sticking with.
---
One more piece of official Nintendo news sparked the internet ablaze. Two of Nintendo's next ventures in mobile games have been revealed (with no screenshots, footage, or explanation, I might add). A Fire Emblem game and Animal Crossing game for mobile devices are being developed as I type! The games are set to release in fall and are supposedly much more "video game" focused compared to Miitomo. I guess we will just have to wait and see what Nintendo has planned for these two mobile games!
---
Off the topic of official Nintendo news, I think it is time to conclude today with a bonus bit of fan content. Matthew Gafford put up this animated episode of a new series inspired by the Star Fox series titled "A Fox in Space." Both comedic and dramatic (and made with a lot of love), I could safely say this one of the greatest pieces of Nintendo "fan art" I've seen in some time. The music is so atmospheric and the animation is both fluid and enticing… oh, I am just so excited to see episode two! Have you all seen this yet? What do you think of it thus far?
---
Tuesday, April 26th
Holy cow, people! Pokémon Go beta footage has been leaked. This is not a drill! Repeat, this is not a drill! You can see a whole bunch of Pokémon models and even a few catches. The footage is not too long, but I would not be surprised if it gets yanked off the internet by the end of the day so I would start watching it now. We've yet to even get a proper release date for this mobile game, yet I still can't help feeling excited for it!
---
On the topic of leaks, it appears that the Japanese Kirby Planet Robobot ROM leaked online somewhere… so spoilers are abound! I'd be sure for more hidden details from the game to be coming out soon enough, so let us get excited, alright? Remember, the game is releasing in the west June 10th.
---
If you are the owner of any of the 3DS games of Pokémon, I think you'd be excited to hear that the details for the next Mythical Pokémon release have come out of the woodwork. The Dark-type Pokémon, Darkrai, will the distribution for the month of May. Darkrai will be level 100 and comes with the moves: Dark Void, Ominous Wind, Nightmare, and Feint Attack. Also, just as this Pokémon is known for its powerful nightmare-inducing qualities, Darkrai will come with its signature ability Bad Dreams. Now, you won't be able to get Darkrai yet; however, you won't have to wait too long. The distribution will work just like Jirachi's where you have to get it online as soon as May starts! Next to Jirachi, Darkrai is my favorite Mythical Pokémon, so you better believe I'll be snatching it up as quick as a thief in the night. How do you feel about Darkrai?
---
Monday, April 25th
DidYouKnowGaming is practically legendary amongst all Nintendo fans who even have strayed towards YouTube, and a new video of theirs has just been released. Super Mario RPG: Legend of the Seven Stars is the topic for this one; look forward to hearing all about inside through the voice of "WeeklyTubeShow," too.
---
If you are still not crazy about Metroid Prime: Federation Force, allow me to help you change your mind. Since the game is slowly approaching release, some footage of the game is popping up around the internet. I think some great gameplay footage can be found here, so please check it out if you still aren't crazy about the game. Though, keep in mind, this is only from the recent events at PAX East. As the release approaches, the game continues to interest me! Metroid Prime: Federation Force will release August 19th in North America and September 2nd in Europe, woo hoo!