Week of: 4/18/16 – 4/24/16
Nintendo Spot is basically the major Nintendo news that blasts onto the internet and such, be it leaks or actual news, you'll hear it from me. I, Sol, will be tackling it as soon as I can, so come here each day to see what has come out into the open!
---
Sunday, April 23rd
The Spongebob versus Patrick Splatfest has officially ended, and the results are in! It seems that Team Patrick just managed to pull ahead of Team Spongebob, making them the winner. Congrats to all you players on either side, but I'd say it especially to those on Team Patrick. Which side were you on? (I didn't participate, sorry, such a busy week!)
---
'Tis a slow news week, I'll admit. However, this trailer for Pokken Tournament caught my eye as I was just planning on finishing this post. The brawler on the Wii U is quite enjoyable and is an interesting direction Pokémon has gone in. This trailer is the classic "accolades" trailer, where positive quotes that remark on special parts of the game are put together other clips of said game. I personally like it because of all the cool special moves they put between the quotes! Check it out if you are still (for whatever reason) wrestling with the idea of getting Pokken or not.
---
Saturday, April 23rd
Above is a video showing how Lakitu was ACTUALLY supposed to do in Super Mario Bros. on the NES. Originally, the angle Lakitu would throw Spinies would change depending on your run speed and would bounce off objects. This is not even world-breaking news like the leaks from earlier, but the "beta" of games is always an interesting topic.
---
GameXplain, a channel that I think earns the title of Nintendo-fan-lord-and-savior, has been covering lots of cool stuff on Star Fox Zero. For example, this video shows off the secret paths the player may take through the various planets in the solar system Team Star Fox traverses through. Videos have been popping up left and right from this channel and others all over YouTube, so don't fret, friend. There is a video that shows off Star Fox Zero's final boss (but, uh, DUH spoilers), so if you are just waiting to skip towards the end of this title, click here to watch it!
---
Friday, April 22nd
It is a short piece of news, but I think it is certainly worth mentioning that Star Fox Zero is out today. I was out on the town today and saw it on the GameStop shelves; I can't lie and say I wasn't compelled into buying it. The word I've heard on the game promises a great adventure, so what on earth is stopping you from at least checking it out?
---
GameXplain has posted some footage from the PAX East Demo of Kirby: Planet Robobot and while it isn't anything to right home about, if you are interested in the buying this new 3DS Kirby title I would say you should watch these videos in full. This one shown above features Kirby in the special Robobot upgrade, but GameXplain also posted a video here that shows off a Grasslands level (with a boss battle, too). In the West, Kirby: Planet Robobot will be arriving June 10th.
---
Thursday, April 21st
Splatoon Retweet event begins! #Miitomo in-app gifts for 10k+ RTs! ⇒ https://t.co/gqhBCXgWey #Miitomo_Splatoon_RT pic.twitter.com/hLcGj1QgPU

— Nintendo of America (@NintendoAmerica) April 21, 2016

Miitomo has special new Mii items coming in, guys, and they are themed after Splatoon. The tweet above has already reached the requirements, but if the tweet had only reached 10,000 retweets by April 26th, only the Inkling Boy wig would have been released to all players. If the tweet reached 20,000 by the same date, both the Inkling Boy and Girl wigs would have been given to the players of Miitomo. You can get dozens of other accessories themed after Splatoon through Miitomo Drop, which you can check out here!
---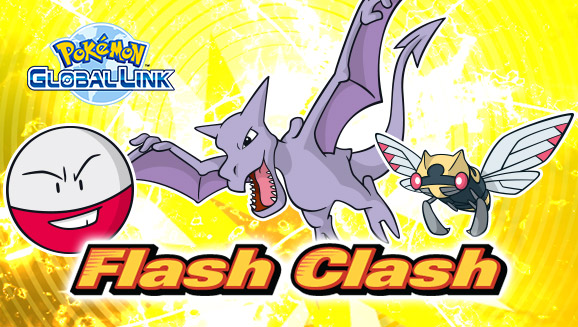 The special event for Pokémon battles called the Flash Clash is starting real soon. You must be registered by next Thursday, April 28th, else you cannot play when it starts the following day. This unique tournament has you have a set of six Pokémon, but can only choose one of the six. Speedy Pokémon with a lot of power will excel here, but with enough trickiness and skill, you can outsmart your opponent. However, Mega Stones and the Focus Sash are banned, as well as all legendaries. This is probably one of the most unique official Pokémon tournaments I've seen in some time, as well as probably the easiest to go into compared to many of the others that have gone up through the years. You must have a version of Omega Ruby or Alpha Sapphire and you will need a Pokémon Trainer Club account. To find out the full process and more information, please go here.
---
The Mythical Pokémon Jirachi distribution event is quickly approaching its deadline. If you want to get the Steel/Psychic type Pokémon, you must do it before it ends on Sunday. All you have to do is get on any 3DS Pokémon main series game (X, Y, Omega Ruby, or Alpha Sapphire), and go to receive a Mystery Gift "via internet." Jirachi is probably my favorite Mythical Pokemon, so you bet I've already had mine!
---
Wednesday, April 20th
So the big news has been a trademark found from the motherland of Japan for Pokémon Sun and Moon. The trademarks were not put out by Nintendo, Game Freak, Creatures Inc., OR The Pokémon Company. Rather, it was made by an IP lawyer in Japan. The names Solgaleo and Lunaala are probably the most important as the "Sol" (not me) and "Luna" imply that they are the legendary mascots for Pokémon Sun and Moon. The "leo" part might hint at this legendary being a lion, and "naala" could be said like "nala." While "nala" doesn't mean lion in Swahili (it means successful), it reminds me of The Lion King. Also, there are OTHER names covered by channel Pwdwinall on YouTube that Serebii has yet to cover. I'll link the video, which in turn has links to where these other names were trademarked and found under identical means as Solgaleo and Lunaala; however, I'll say it again, Serebii has said nothing about these, but I will update this if they do by the end of the day!
---
In other news, Mario Kart Arcade Grand Prix DX has a new update coming out. Click here to find out the full details on it!
---
Metroid Prime Federation Force officially has a release date, now. The upcoming game on Nintendo 3DS system will be coming to North America August 19th and in Europe September 2nd. We won't have to wait too long to see just how well this game fares to us as the consumer… it gives me shivers thinking about it!
---
Above, you'll find something Nintendo has put on their YouTube. What, you might ask? This is a Star Fox Zero video… but not just any video. This is a 15-minute animated special completely dedicated to the crew on the Great Fox, and it is mind-blowing. There's missiles, there's evil space-monkeys, there's, of course, Slippy… what more could you ask for?! It is actually surprisingly fluid and reminds me of the Kid Icarus animation shorts they did for Kid Icarus Uprising's release. Well, whatever the case may be, this is a really cute and epic video Nintendo has produced so please watch it for all that is good and holy in this world.
---
The last bit of news is great for all of you fans of the Nintendo Wii U Virtual Console. Mario Party DS will officially be released on the Wii U Virtual Console tomorrow. Be prepped to traverse through Wiggler's Garden and stomp around Toadette's Music Room, especially if you've yet to experience the game. This is one of my favorite Mario Party games, which may or may not be an unpopular opinion (seriously, I don't know). However, I honestly suggest buying this game for yourself and making your own opinion. It's a Mario Party game made before Mario Party 9; it can't be THAT bad.
---
Tuesday, April 19th
Yooka-Laylee, the Banjo Kazooie inspired game that is created by new-company Playtonic games, seems to have yet another person from Rare joining the team. Phil Tossell, a staffer who helped code Star Fox Adventures and Kameo: Elements of Power (both Rare games), will also be assisting in coding Yooka-Laylee. I think this is just another piece of news that promises this game to be a good one!
---
Above is a teaser trailer for Star Fox Zero. Yes, while that is all well and good, tomorrow (April 20) Nintendo Treehouse will be going live and showing off Star Fox Zero and its side game Star Fox: Guard. This will be happening at the official Nintendo page and at 3PM Pacific Time, so keep an eye out for all you Star Fox fans out there. And there sure are a whole bunch! Star Fox: Zero has also been ranked as the top-selling game this week on Amazon. Just wait until the sales of the game when it actually releases!
---
Orders for Kirby Planet Robobot have started to pop up today. The amiibo collection has pre-orders live on the GameStop site for those in the United States, each for $12.99! However, the Nintendo UK store has both the game, its amiibo, and an exceptionally neat bundle for Kirby Planet Robobot. Check it out! Kirby Planet Robot releases on 3DS systems on June 10th for both regions, too.
---
Finally, version 1.1.3 for Miitomo on Androids has been released. There isn't really anything noteworthy, except that some processes have speed enhancements and that there were minute bug fixes. I think you all would like to keep your Miitomo up-to-date, however, so I am just looking out for you all!
---
Monday, April 18th
Mini Mario & Friends amiibo Challenge has a cute new trailer that shows off the abilities of each of the Mario abilities that interact with the game. From Donkey Kong to Bowser Jr. to Mario himself, you'll see it all! To get this game, any amiibo bought from March 25th to April 28th, the release date for the game (keep this in mind that this is for North America), will come with a download code for it.
---
Above, you may see something extremely confusing, but allow me to explain. This picture details a patent made by Nintendo for cloud gaming devices (actually called  Supplemental Computing Devices) and is relatively detail-less. However, the NeoGAF thread here is probably the place to go for further details on what little we have.
---
Maintenance has been scheduled through the week, guys! Super Mario Maker's online capabilities will be offline on April 20th from 6PM to 8PM PST, so be warned fellow level creators. That is not all! From 9PM on April 19th to 1AM April 20th PST, many servers and online services will be offline for some fine-tuning. Luckily, it won't last too long!